Daniel Kelly, Haydn Trumpet Concerto

Daniel Kelly joined Texas A&M University-Commerce in 2010 after serving on the faculties of Indiana State University and the University of Southern Mississippi. Dr. Kelly is principal trumpet of the Colorado MahlerFest in Boulder, a member of The Dallas Winds, and has performed with the Charleston Symphony, Plano Symphony, Allen Philharmonic, Northeast Texas Symphony, Mobile Symphony and Opera Orchestras, Gulf Coast Symphony, Mississippi Symphony, Meridian Symphony, Sinfonia Gulf Coast, Terre Haute Symphony and Brass Quintet, Philharmonia à Vent, Columbus Brass, The Prairie Ensemble, Champaign-Urbana (IL) Symphony and Brass Quintet, Baroque Artists of Champaign-Urbana (BACH), Peoria Bach Festival Orchestra. He is also a founding member of The Ambassador Brass Quintet, which has presented concerts and workshops in the US, Thailand, Vietnam and China. More recently Dr. Kelly has presented recitals and master classes at the Campina Grande International Music Festival (Brazil) and Shenzen Conservatory (China). More ...
---

Nicole Van Every, soprano

American soprano Nicole Van Every has given over 100 solo performances across the globe, including the United States, New Zealand, Greece, England, Ireland, Scotland, Poland, Germany, and Austria. Sought after as a performer of operatic, oratorio, and jazz repertoire, her distinctive warm timbre has been hailed as providing a "stunning feast for the ears." Recent engagements include performances with the Richardson, Texas Symphony Orchestra; the Colla Voce concert series in Milwaukee, Wisconsin; Carmina Burana with the Oklahoma City Philharmonic; Mozart's Exsultate, jubilate with the Fort Smith Symphony; the Polish premiere of Richard Einhorn's Voices of Light; the title roles in La Traviata and Tosca with Painted Sky Opera; Brava! Opera Theater in Ashland, Oregon; and Haydn's Creation in Eisenstadt. She was also invited to represent the state of Oklahoma in the 2021 broadcast of Uniting America, a national concert with artists from all 50 of the United States. Nicole is a winner of the 2020 American Prize in Oratorio Performance, winner of the 2020 Berkeley, California, Community Chorus & Orchestra Soloist award, a Regionals Finalist of the Metropolitan Opera National Council auditions, and winner of the Classical Singer Magazine summer competition. She holds a Doctor of Musical Arts from the University of Oklahoma.
---

Kimberly Grantland James, mezzo-soprano

Kimberly James maintains an active performance career, particularly as a concert artist and recitalist. She has performed in concert with the London Sinfonietta, the New World Symphony, the Los Angeles Symphony, and on stage with New Orleans Opera, Chautauqua Opera, Opera Theatre of St. Louis, among other organizations. Her performance repertoire is quite diverse, encompassing oratorio works by Bach, operatic repertoire from Purcell to Adamo, and concert works by Verdi, Mahler, Ravel, and contemporary composers. She is currently an Assistant Professor on the voice faculty at the University of Nevada-Las Vegas. James earned degrees from Texas Christian University (B.S.), Rice University (M.M.), and Indiana University (Performer Diploma, D.M.A) as well as a Certificate in Vocology, National Center for Voice & Speech (Summer Vocology Institute).


---
Pawel Wolski, tenor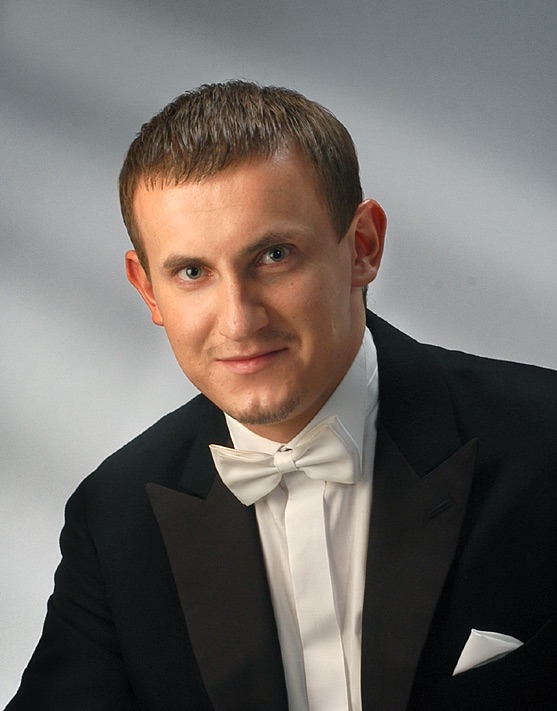 Tenor, Pawel Wolski, is a highly sought after soloist who has performed extensively throughout Europe with more than 30 opera and operatic roles to his credit including Vladimir Lensky (Eugene Onegin), Ismaele (Nabucco), Lindoro (L'italiana in Algieri), Tamino ((Die Zauberflöte), Alfred (Die Fledermaus), Jaquino (Fidelio), Le Remendado (Carmen), and Tassilo (Gráfin Mariza) among others. He has also performed as soloist for many of the great choral and orchestral works including Orff's Carmina Burana, Mozart's Requiem, Haydn's Nelsonmesse, Bach's Magnificat, Gorczycki's Completorium, Charpentier's Te Deum, C. Frank's Die Sieben Worte Jesu am Kreuz and a premier of The book of songs by J. Stalmierski.Mr. Wolski is a graduate of the Ignacy Jan Paderewski Academy of Music in Poznań, Poland where he received his doctorate in musical arts. He currently serves on the faculty at Akademia Sztuki in Szczecin and also serves as tenor soloist for the Opera at the Castle in Szczecin, a position he has held since 2008.


---
Aaron Agulay, baritone

Baritone, Dr. Aaron Agulay, has extensive performing experience in venues and organizations worldwide ranging from summer-stock theaters to nationally and internationally renowned opera houses –Opernhaus Zürich, Konzert Theater Bern, Theater Magdeburg, Central City Opera, Opera Theatre of St. Louis, Carnegie Hall, The Aspen Opera Center and The Opera Program at The Banff Centre for the Arts and Creativity. Agulay made his operatic debut in Europe as a member of the Internationales Opern Studio and mainstage cast with Opernhaus Zürich. From his many mainstage roles, highlights include being a part of the world premiere of Marc-André Dalbavie'sGesualdo, and Anno Schreier's Die Stadt der Blinden and also singing in Leo Nucci's last performance of Verdi's Rigoletto. He also was featured in a run of Moshe Leiser and Patrice Caurier's original production of Rossini's Le Comte Ory alongside Javier Camerena and Cecilia Bartoli, which is now featured on a Live Digital Video Recording by Decca Music Group Limited. Dr. Agulay is an Assistant Professor of Voice at Washington State University where he teaches Studio Voice, Vocal Pedagogy, Vocal Literature and Diction for Singers. More ...